Hello fellow book nerds! I am trying some new things out on my blog to get a very consistent feel. I used to do freebook fridays on here but it wasn't being well received so I changed the set up.
Over the last couple weeks of December I participated in Shaelea's #Project14Lists and I loved it! It was so much fun and the best part about it was there were no guidelines. All you had to do was create a list of something, anything!
This inspired me to today's announcement. #FangirlingOnFriday – every Friday I will be posting a list of things I am going to fangirl about. I decided to post no real structure for this except to follow the prompts provided. Don't like the prompt? Then use something else! I want this to be fun so if you need to adjust a little to participate, then go right ahead.
Would you like to join this? Please feel free to do so. The steps are very simple and you can read about it below. I will be starting this next week and will post a header if you want to use it.
**UPDATE** Here is the header!!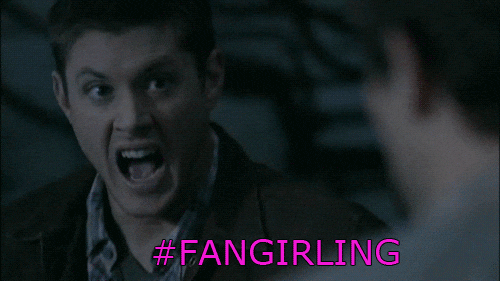 Happy Reading!
---
#FangirlingOnFriday
If you'd like to participate this is all you have to do:
Follow the prompts below and fangirl every Friday about it! Don't like the prompt? Adjust it if you need to because I want all to participate. If you share on social media please use the hashtag #FangirlingOnFriday
You can list as little or as much as you want. There is no specified amount.
Please link this post so I can read your answers and share them.
Easy right?! Well here are the prompts I have planned so far (I will update so refer back to this for more prompts). I hope you join and fangirl with me every Friday.
January Prompts
01/11 – Fandoms
01/18 – DRAGONS!
01/25 – Favorite Nicknames of Characters
February Prompts
02/01 – Favorite of January
02/08 – Favorite Diverse Reads
02/15 – OTP's
02/22 –
Slow burn romances
March Prompts
03/01 – Favorite of February
03/05 – Dr. Seuss / Children's books
03/15 – Badass Heroines
03/22 – Favorite Tropes
03/29 – Least favorite tropes
April Prompts
04/05 – Favorite of March
04/12 – Retellings
04/19 – Animal Sidekicks/Shapeshifters
04/26 – First series
May Prompts
05/03 – Favorite of April
05/10 – Royalty
05/17 – Favorite Mothers
05/24 – Evil Female Leaders
05/31 – Cover love
June Prompts
06/07 – Favorite of May
06/14 – Best Friends
06/21 – Favorite Fathers
06/28 – Evil Male Leaders
July Prompts
07/05 – Favorite of June
07/12 – Revolutions!
07/19 – Favorites of 2019 so far
07/26 – Fictional Food or Books that Feature Foods
August Prompts
08/02 – Favorite of July
08/09 – Books that Make Me Smile
08/16 – Favorite Romance Books
08/23 –
Best Friends
08/30 – Intimidating Yet Rewarding Reads
September Prompts
09/06 – Favorite of August
09/13 – Books Read in School
09/20 – Pirates!
09/27 – Favorite Blog Posts
October Prompts
10/04 – Favorite of September
10/11 – Mental Health Books
10/18 – Author's I'd Love to Meet
10/25 – Monsters!
November Prompts
11/01 – Favorite of October
11/08 – Thankful for These Characters
11/15 – Thankful for These Authors
11/22 – Thankful for These Books
11/29 – Thankful for These Bloggers
December Prompts
12/06 – Favorite of November
12/13 – Holiday/Seasonal Reads
12/20 – 2020 Books I Can't Wait For
12/27 – Favorites of 2019